The discipline content of Religious Education is derived from the response of the community of believers (in ancient Israel and in the history of Christianity) to God's self-communicating revelation. Revelation can be understood as:
• natural (or general or universal) – referring to an awareness of God's activity in the existence and evolutionary unfolding of the cosmos; in the human quest for truth, beauty, goodness and unity; in the phenomenon of religion and the sincere search for God's will;

• historical (or specific or particular) – referring to the knowledge, practices and social forms that emerge from the particular encounter with God witnessed to in the historical traditions of Judaism and Christianity.

While these understandings of revelation are interdependent, it is the content of historical revelation that structures the Christian worldview and the ways of knowing and acting which are characteristic of the Catholic Tradition.

Resources
Australian Catholics (AC+) Diocesan Subscription
From the start of June 2021 Jesuit Communications have refreshed the Australian Catholics magazine website and added a new Australian Catholics Education Hub and Teachers' Forum.
The Education Hub, which has 400 subscriber school communities around Australia, connects students, parents, and teachers at subscriber schools with a range of resources including an archive of more than a thousand articles, reflections, quizzes, classroom activities, prayer and liturgy resources. The Education Hub also features , directories of Catholic retreat providers and speakers as well as a downloadable calendar of feast days and days of observance that can be synched to a smartphone or electronic calendar.
The Australian Catholics Teachers' Forum creates a dedicated space where, for the first time, religious education teachers, formators and co-ordinators, as well as directors of faith and mission within the Catholic education sector around Australia can share ideas and resources within and between their existing networks. It complements online, existing face to face networking opportunities through Religious Education Leader and other networks.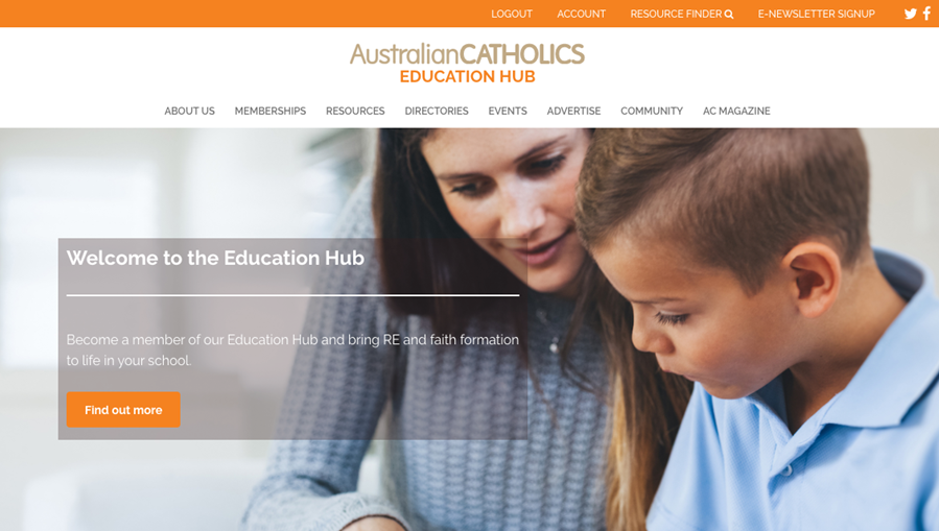 CLICK HERE to vist site.
All AC+ subscribers have access to the Education Hub and all staff from subscriber schools have access to the Teachers' Forum. All one needs to do is log on and set up their member profile.
Australian Catholics magazine invites those who are not yet a part of our subscriber community to arrange free trial access to the new platform.
Enquiries about access to AC+ can be made to: This email address is being protected from spambots. You need JavaScript enabled to view it.
What does an AC+ subscription give you?
An AC+ subscription gives your school access to:
An archive of articles and resources organised by RE curriculum topics.
Liturgy resources that can be used at key times during the year or special school occasions. Each week Sunday scripture reflections and commentaries, as well as prayers of the people, are posted – with hundreds of reflections archived
Classroom reflections and activities to go with articles in each edition of the print magazine.
A Catholic Teacher calendar with links to resources for more than 100 Catholic and social justice events throughout the year.
Videos for the classroom.
RE-Cycled activities from other Catholic schools around the country.
Blog posts exploring spirituality in contemporary Catholic life.
More resources are posted on the site with each new edition.
Teachers can set students to reading articles from Australian Catholics magazine in class and draw on them in their own RE lesson planning, and be confident that all articles are in line with Catholic teaching.
Sandhurst school domains are now in the AC+ system, meaning anyone with an @yourschool email address can set up a login. To do this head to australiancatholics.com.au and click on "Register" top right hand corner.
Enter your details and create a password, then click on the verification email. You can now login with your email and password.
For any support please contact This email address is being protected from spambots. You need JavaScript enabled to view it.